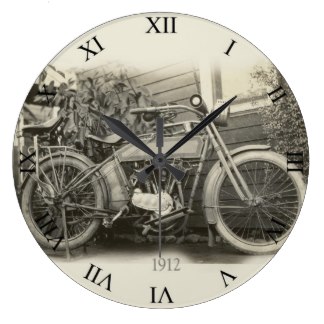 Purchase Information
Designed from an vintage photograph of a Harley – Davidson taken in 1912 by Ohio Artist Terri Meyer, this vintage motorcycle clock will continue to be timeless for another 100 years.
Harley-Davidson Inc, is an American motorcycle manufacturer. Founded in Milwaukee, Wisconsin, during the first decade of the 20th century, it was one of two major American motorcycle manufacturers to survive the Great Depression and competition from Japanese manufacturers.
If you like vintage, check out more of our exclusive clock designs below:
Shop our collection of  Unique Clocks. Click on the images for details, enlargement, pricing, and purchase information.
Shop our Unique Wall Clocks by Category